The Association of Hong Kong Manpower Agencies (AHKMA) of Hong Kong SAR, representing the agencies in Hong Kong, has come together to collaborate and promote the development and cooperation between the employment services of Foreign Domestic Helpers (FDHs) of Philippines, Indonesia, Thailand, Sri Lanka, Bangladesh & Hong Kong SAR; and safeguards the implementation of the regulatory framework.
AHKMA is formed as a Non-Profit Making Organization by a group of reputable employment agencies united with the same aim to advocate Hong Kong in maintaining its competitiveness for Foreign Domestic Helpers welfare, with over 50 members  whom are all authorized agencies with at least 30 years of experiences in the industry. We have assisted the Governments of Hong Kong, Philippines, Thailand, Indonesia, Sri Lanka and Bangladesh in their formulation of various labor related policies with regular reviews on market situations in Hong Kong.
We ensure all our members are qualified employment agencies with authorization which may include but not limited to the followings:-
Qualifying employment agency license of Hong Kong SAR must have a valid business registration certificate and an employment agency license of Hong Kong SAR.
Qualifying employment agency should be able to demonstrate staffing, Counseling assistance, translation service, post-arrival training, catering and dormitory support & accountability in case of dispute between the domestic workers and their respective employers, as well as ensuring the worker's welfare during the entire contracted period in Hong Kong.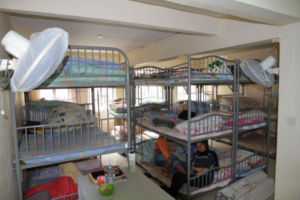 AHKMA boarding house to facilitate members'  applicants.
Our association aims to:
Supporting authorized employment agencies to raise the professionalism of the employment industry and enhance the accountability of other industry stakeholders,
Tighten enforcement against unlicensed and errant employment agencies,
Providing Foreign and Domestic Government Authorities with advices on recruitment, deployment, labor disputes settlement and worker's rehabilitation area,
Safeguarding Foreign Workers from unlicensed players in the industry and promoting employment agency personnel to be accountable for their actions,
Organize Charity Donation and Emergency Famine Relief programs for sending countries,
Promoting Trade, Investment and Tourism between Hong Kong and the Host Countries of the workers.